This article is a guide to the on page SEO services we provide at Mapplinks. We have a team of on page SEO experts and consultants in our company who work on making web pages more "understandable" by both search engines and users.
For any business looking to maximize their online presence, On Page SEO is a must.
It's an important part of optimizing your website for search engines, helping you rank higher and get more organic traffic from potential customers.
But what exactly is on page SEO? What makes it so important? And how can you optimize for it?
In this blog post, we'll answer all those questions and more.
Introduction to On Page SEO
On page SEO is one of the 4 pillars of SEO. The other 3 pillars are technical SEO, off-page SEO (link building) and content.
As a SEO agency, we focus on providing all 4 as a service to our clients, but in this article we will focus on the services we provide as a on page SEO company.
What is On Page SEO?
On page SEO refers to the process of optimising individual web pages in order to improve their rankings in search engine results pages (SERPs).
This includes techniques such as keyword research, content optimization, image optimization, meta tags and descriptions, and internal linking.
All these elements work together to help your website rank higher in SERPs and draw more organic traffic.
Why Is On Page SEO Important?
On page SEO is essential because it helps search engines understand the content on your website better.
By optimizing each page for specific keywords or phrases, you make it easier for search engines to find and index your content.
As a result, your website will have a better chance of ranking highly in SERPs, which will bring you more organic traffic from potential customers who are actively searching for services related to yours.
How Can You Optimize For On Page SEO?
Optimizing for on page SEO involves several steps:
Keyword Research
Identify relevant keywords that are related to your business or product/service offerings and use them throughout your website content. Make sure to use them naturally without keyword stuffing or spamming the page with irrelevant keywords
Content Optimization
Craft quality content that is optimized around those keywords; ensure it's well-written and engaging
Image Optimization
Utilize alt tags and file names that contain relevant keywords
Meta Tags & Descriptions
Include metadata such as titles, meta descriptions, etc., using targeted keywords
Internal Linking
Link within your own website using relevant anchor text in order to boost the visibility of different pages on your site. All these steps should be taken into account when optimizing for on page SEO in order to maximize the visibility of your website in SERPs.
The above are included in the on page SEO service.
There are a few others things that decide how well your business website will rank on Google. And some of them are:
Top Factors that affect SEO ranking of websites
Content 
Content is a huge part of SEO ranking and plays an important role in the ranking of your website. Creating and putting up good content helps a great deal in generating a better SEO ranking of your website.
Creating good quality content with appropriate back links also helps achieve a good SEO ranking of your website. Also, the content your website offers should be unique and of value so that visitors are compelled to visit and re-visit your website for more such information.
Tags Tags Tags!
Image alt tag: Optimizing your images for SEO aids in the overall ranking of your website.
The image alt tag should be related to the article posted on the website so as to help in back linking appropriate content to your website.
Link title tag
The link attribute tag can be used to better optimize the content on your website and your website in general. These link attribute tags can be used to describe, through keywords, the content posted on your website.
Heading tag
Heading tags also play an important role in optimizing your website and website content for search engines. There are various tags you can use to highlight the content on your website – H1, H2,H3…H6.
Each such heading tag has its own importance in the optimization process of your website and website content. Although there are six such heading tags, you needn't have to use all six heading elements in one page.
Optimize the right keywords
Using the right keywords in the posts on your websites is yet another factor determining the SEO ranking of your website. Keywords used should be related to your business and the varied posts being posted on your website.
We will share some of the ways we find the right keywords in this post below.
This helps people land on your website if they are searching for information on a particular topic and your business / company blog caters to the same. The more traffic generated to your website, higher the ranking of your website.
A sitemap
Creating a sitemap for your website greatly helps in a better SEO ranking of your website.
This is because search engines find it easier to index all the web pages on your website, consequently making your website more organized. This helps search engines to understand the contents of your website.
Website Speed
The page loading speed of your website plays quite an important role in the SEO ranking of your website. This is because people tend to stay longer on a website which loads faster than a website which takes ages to load.
When people notice that your website provides high value content and information at a faster rate than other websites, they tend to visit and re-visit your website for more such high-value content.
This is a definite boost to the SEO ranking of your website.
Search-engine friendly URLs
The usage of search-engine friendly URLs plays an important role in the optimization of your website but is often forgotten.
A search-engine friendly URL is one that is meaningful and straightforward. Another aspect to be kept in mind when using a search-engine friendly URL is to avoid dynamic URLs in your website's architecture.
Following the above mentioned techniques are surely going to improve the on page SEO ranking of your website.
And as you see in the list above, all on page SEO services start with keyword research.
So let's look at some of the channels to find keywords for your on page SEO strategy.
Keyword Research for On Page SEO
Let's start with a fun fact:
Only 20% of the targeting fills 80% of the marketing funnel. The rest 80% of the time, marketers target keywords and phrases which the users never really search for.
The core problem is this:
Marketers use the phrases to match what they're trying to sell, not what the user is trying to find.
That's not the only problem. Here's the other problem to think about:
Everyone's doing keyword research the same way. This means your competitors are choosing the same keywords as yours. Which means you're always competing in a very crowded space.
Most digital marketing and SEO executives use the most common keyword search methods like Google's keyword planner tool.
To beat our competition and make sure we're targeting the right keywords and phrases, we must leverage some offbeat keyword research methods.
Here's the list of 6 offbeat keyword research channels you can use:
1. Google Suggest
Enter a keyword on Google and.. don't hit ENTER! Make a list of the keywords Google suggests.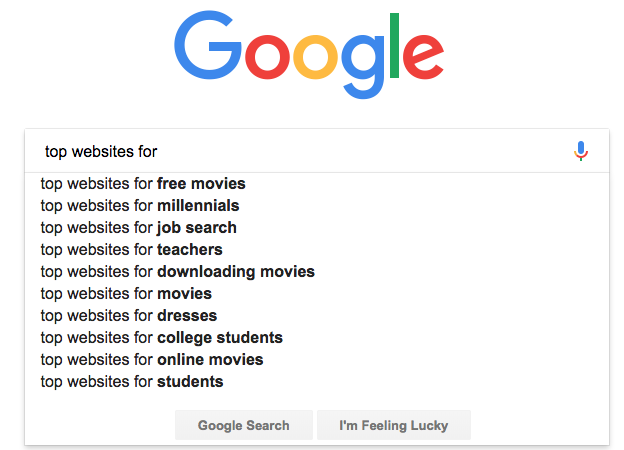 Suggested searches for 'Top websites for'
PRO TIP: Add a new space before your keyword so Google will suggest more keywords.
2. Ubersuggest
This works like Google Suggest on Steroids.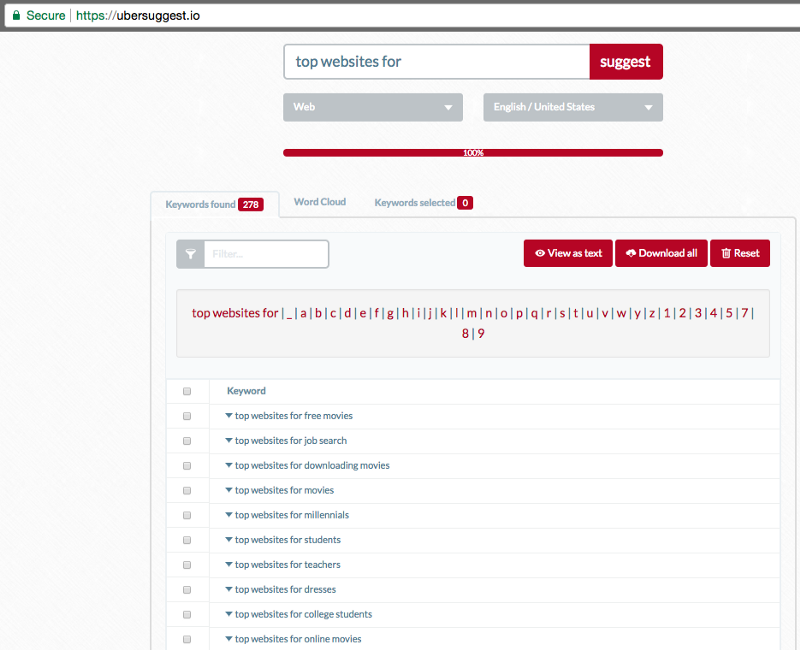 278 suggested keywords for 'Top websites for'
3. Reddit
Known for direct critics, great for genuine keywords. The anonymity on the channel ensures marketers can find the REAL keywords people are looking for.
So go to Reddit, search for your topics and check the words and phrases that show up in the threads.
4. Quora
Another channel for absolutely GENUINE keyword tracking.
Look for what people are asking, then answer those questions with your content. Your product or service should add value and provide a solution for the questions.
5. Google Related Searches
Enter a topic in Google search. Hit ENTER.
Go to the end of the search results page and see the 'Related searches'.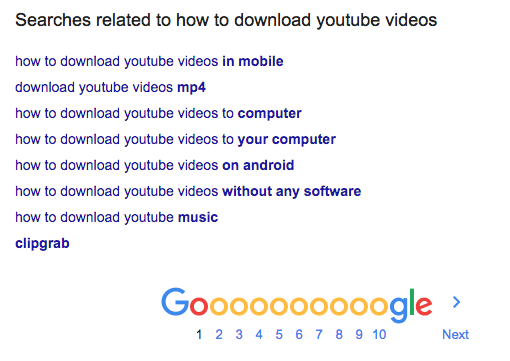 Related searches for 'how to download youtube videos'
6. Wikipedia
Enter a topic on Wikipedia and open the article for that topic.
Check all the phrases that the article links to and the table of contents for the topic. These would be potential keywords for you to target.
Once you have the list of potential keywords, check the search volumes, shortlist your top priority keywords, and include them in your SEO strategy.
A good on page SEO strategy and service should also cover a content checklist that improves the on page SEO. If you take our on page SEO services, we will also share all our SEO checklists with you.
Here's one of the checklists we follow for our on page SEO agency clients:
On page SEO checklist for content publishing
Use the focus keywords in the page title
Use a page title under 60 characters
Use the main keywords at the beginning of the page title
Use the main keywords in the page descriptions
Use a page description less than 160 characters
Use the main keywords in the heading
Don't follow the one-keyword per content rule
Include 2 or more keywords throughout the post
Include LSI keywords in the page body, content, and heading tags
Use a short URL for the post with keywords included
If using SEO for WordPress, choose only one category per post
Include an image or creative within the first 25% of the blog content
Use the keywords in the image alt tag
Create content with at least 1800 words if pillar post or at least 800 words if cluster post OR with 500 words if the post includes an infographic
Include synonyms of the keywords in the content naturally
Add a media embed — video or presentation (more the merrier)
Include a downloadable file — PDF guides or template docs
Include 3+ external links
Include 3+ internal links within the content
Do a grammar and spelling check using an online tool
Use numbers in the content title or headings
Include a share to social media option in the content — you can use a plugin for this
Do the keyword research before writing the blog post
Include CTAs in your content
Ensure the publish date of the post is visible in the content
Include the most important keywords naturally in the H1 tag
If you're looking to take one step ahead of the on page SEO service, you can also get a complete SEO service. Our SEO experts work on a 5-step process as explained below:
5-phase SEO service
The complete SEO agency service has 5 major components:
1. The SEO Audit
We make a list of the most important on-site SEO factors and audit them at the start of each month. These could be title and description tags, image ALT tags, and so on.
2. The SEO Strategy
We develop both on page SEO strategy, as well as link building SEO strategy based on the audit in Step 1. This typically includes a monthly audit, keyword research each week, and content creation and publishing plan for each week, along with a SEO report at the end of each month.
3. The SEO Keywords
We do keyword research based on the methods explained earlier in this post, along with other SEO agency tools we have access to.
4. The SEO Checklist
Each time we publish new content for our SEO clients, we follow the SEO checklist. If we have a client who has a WordPress website, we often use RankMath or All-in-One SEO plugins to run their checklists too.
5. The SEO Report /Analytics
Each month, we make a report of SEO optimizations, keyword positions on search results, as well as the results achieved along with a plan for next month.
On page SEO is an essential part of any digital marketing strategy and should not be overlooked if you want to maximize the visibility of your website in SERPs.
SEE ALSO: The SEO Hacker method to rank fast on Google
By following best practices such as keyword research, content optimization, image optimization, meta tags & descriptions and internal linking you can ensure that each web page on your site is properly optimized for search engine crawlers.
Doing so will help improve rankings in SERPs which will ultimately lead to increased organic traffic from potential customers who are actively searching for products or services related to yours.
At Mapplinks, we provide on page SEO services and other SEO service to clients in the US, Canada, UK, UAE as well as Australia. If you're looking for on page SEO experts to help improve your search rankings, connect with us at rishabh@mapplinks.com and we'll be happy to do a free SEO audit for your business.
Services we provide:
On page SEO services
Off page SEO services
On page SEO consultation
Link Building services
Social media management services