5 Ways Social Media Listening helps in Product Development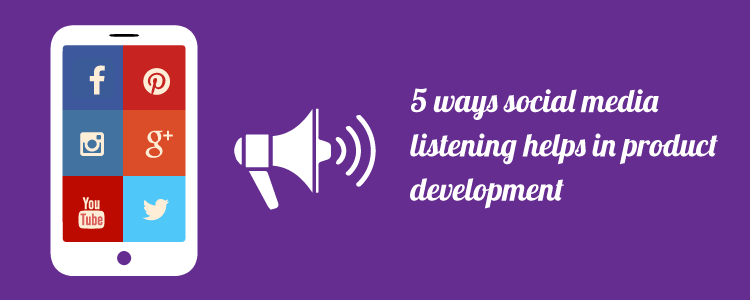 Social listening, or more appropriately, social media listening is a technique often employed by brands and businesses to understand the conversations surrounding them, that take place on social media and the internet. Social media monitoring is basically the process of looking for specific indicators within social media listening.
The purpose of social media listening goes beyond the framework of pure listening and encompasses monitoring as well.
Read on for 5 ways social media listening helps in product development.
Monitor ideas and concepts from social media as potential features of your product
It is all good if you have created a product with features you thought are good enough to be sold in the market. What you might not have realised is there can be many more features that can be added to the product to make it more useful for the users of your product. Social media listening helps you understand what potential features could be added to your product to make it more attractive in the market. Very often, conversations on social platforms about customers' needs can be translated into features of your products.
Identify audience groups and segmentation and lock down on the specific target audience
On social media, it becomes easy to recognize audience groups specific to your product category and carry out audience segmentation so as to be able to lock down on the target audience specific to your product. With the advanced targeting options available on social media today, you have a lot of useful and relevant information about your audience at your disposal. Make good use of it.
Analyse competitors and their products' feedbacks and plan your product accordingly
Social media listening is one good way to assess your competitors and their products through what consumers are speaking. This helps you understand how you can better your product by understanding the good points about your competitors' products as well as the additional features consumers are looking for.  Also, you can run social media campaigns specifically with the focus of getting feedback.
Brainstorm features on social media through various campaigns
Creating campaigns either around your product or simply to engage with your specific target audience, would help you understand what the features are that consumers want, in a particular category of products or even a particular product itself. For example, you can run a contest where you ask people to tell which feature you would like to see in your product.
Get feedback post launch of the product and change your product accordingly
Get the feedback about your product, post its launch, when your customers would have tried and tested your product. This will give you a fair idea of what is lacking in your product or what additional features customers feel can be added to your product. Another point to keep in mind is that you should not shy away from changing your product. Let your customers decide your branding and positioning, as well as your USPs.
Some of the tools which can be used for social media listening include Klout, TweetReach, Social Mention, Google Alerts, Hootsuite feature, and others.
If you are a business looking at using social media listening and want to understand more about it, feel free to connect with us.
SEE ALSO Deciding between In-house and Outsourcing Digital Marketing of your business?