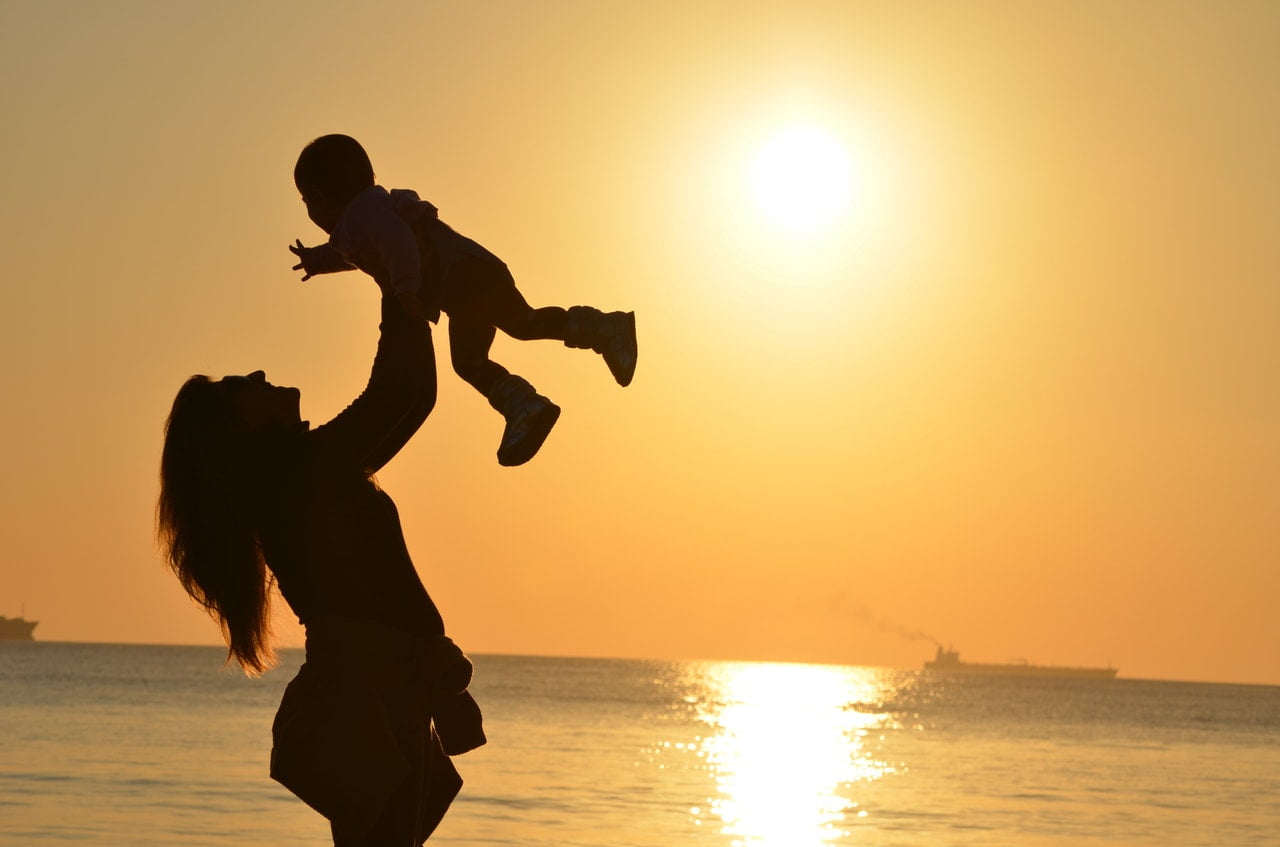 See how people are celebrating Mother's Day on social media
"All that I am or ever hope to be, I owe to my angel mother." —Abraham Lincoln
Sunday is Mother's day! And it's great to see the amazing quotes, photos, and videos being posted across social media platforms celebrating mothers and mother's day. That's not all, we can say posts about Mother's day on the official blogs of our favorite social media platforms.
Mother's day on Facebook:
Facebook posted a data study which explores motherhood through Facebook data and this is what they found:
There are more than 27 million mothers in the US on Facebook who connect with their children on Facebook or share the birth of a child as a life event on Facebook.
The average age of all mothers on Facebook is 47.
The average age of new moms who have had a baby since last Mother's Day is 30.
US states with the most moms on Facebook are Wyoming, West Virginia, Iowa, South Dakota, Idaho
US states with the fewest moms on Facebook are New York, California, Virginia, Hawaii, New Jersey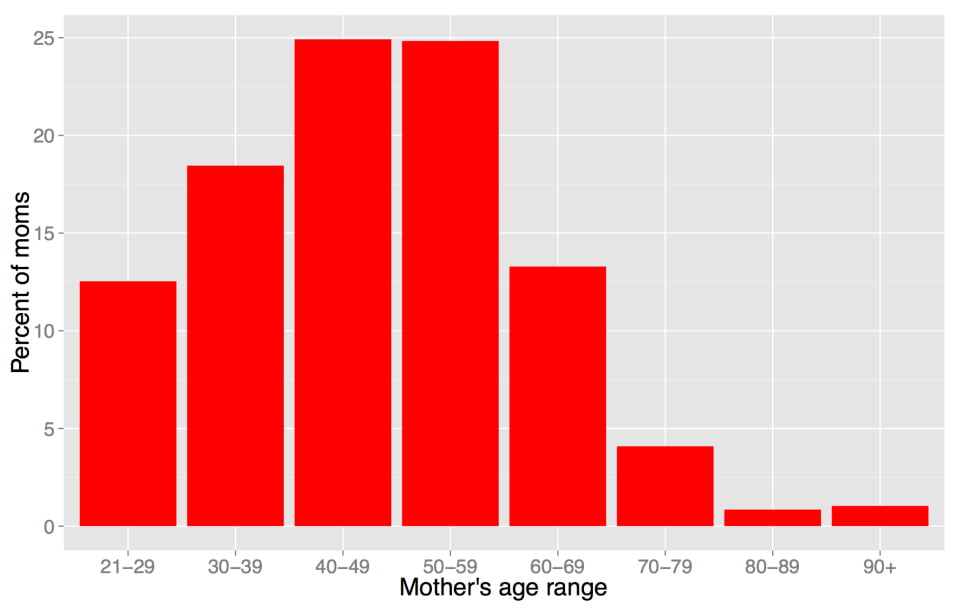 An ecard from someecards.com which was shared and re-shared on Facebook –

Mother's day on Twitter:
Twitter, on it's official blog, posted about mother's day celebrations in 140 characters:
"Twitter is a place where people celebrate many things: birthdays, friendships, milestones, new jobs. And there's one day a year that everyone, it seems, joins in to celebrate a very special person: mom."
Here are the phrases people use to tweet about moms –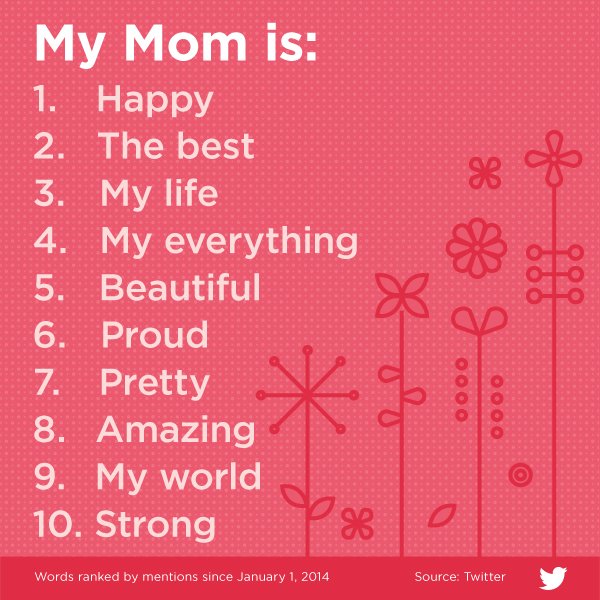 Here's an infographic on how mom's use Twitter –

And well, here are some wonderful Tweets by people across the globe. For all moms –
Mothers Day is stressful.. what do you get someone who has given you everything?

— ♛ (@nuteIla) May 10, 2014
I used to sleep on my mom's shoulder, now I'm glad to return the favor. Love you mom, happy #mothersday weekend. pic.twitter.com/M5aMhmpbYi

— Adrian Grenier (@adriangrenier) May 10, 2014
A mother's love is deeply rooted! I love my mama. Happy Mother's Day to all mothers around the world! Me and Mommy<3 pic.twitter.com/YbdgwfuiVS — Penny Johnson Jerald (@btwprod) May 10, 2014
Happy Mothers day to my beautiful wife @emyliarosnaida no one can do it better for our kids!love u so much! — Dato' AC MIZAL (@datoacmizal) May 9, 2014
Happy mothers day to my no.1 critic,my no.1 supporter my prayer warrior.. I love you so much ma! Thank… http://t.co/dlPDGDj507 — Judy Ann Agoncillo (@OfficialJuday) May 6, 2014
Happy Mothers day, mom!!! I got you this Wendy's cheeseburger wrapper with your name on it. pic.twitter.com/Mp6FsJWLq2 — Callie (@callies_s) May 2, 2014
I don't care how old I am. If I lose my mom in the store I will panic. — true! (@damnitstrue) May 10, 2014
I LOVE MY MOM. <3 pic.twitter.com/CXQ8osI2gU — BANATERO™ (@PrinceOfBanats) May 10, 2014
hard to get my mom something for Mother's Day bc honestly she deserves the world

— Melany (@cynalem) May 10, 2014
Mother's Day on YouTube
"The world's toughest job" became viral last month. We feel it's a perfect share for the mother's day:
KFC has a surprise for mothers –
And here's our favorite – Kid President's open letter to all moms with 10 things all mothers should know –
Mother's Day on Pinterest:
Follow Rachel Monday's board Mom: From A to Z on Pinterest.

Follow New mommy Melissa Anciaux's board 25 things I love about you (mothers Day Challenge) on Pinterest.
Follow Debee Morelli's board this is my mom/best friend and my inspiration on Pinterest.


Mother's Day on Instagram
Instagram is running a weekend hastag project for Mother's day.
"In honor of Mother's Day on Sunday, the goal this weekend is to share a creative photo or video that represents the best piece of motherly advice you've ever received." – Instagram Official Blog